Do you find researching and writing your undergraduate/Masters essays to be tedious and time-consuming work? Are you overwhelmed by the thought of completing your essay assignment by the deadline? Then look no further; you have come to the right place! We offer a premium writing service with experienced essay writers to help you with all your essay- writing needs.
We provide essay-writing services for all standards and subjects. Our specialisations include Business, Management, Finance, Law, Sociology, Social Work/Care, Psychology, Medicine, Health, Nursing, Economics, Statistics, Information Systems, Information Technology, Maths, Chemistry, Physics and many more.
Our writers have an abundance of experience researching and composing academic work, from undergraduate essays to PhD thesis.
When writing at degree level there should be sufficient academic content of good quality.  Academic referencing is not about placing a name at the end of a sentence, it is about representing two or three authors' views, considering them critically, comparing and contrasting these to specific context, developing your own thoughts through synthesising all aspects and then critically evaluating through comparing, contrasting and contextualising in the form of debate. Our writers produce evidence and justify the views they state.
We ensure that the expert completing your work is a professional in your specified subject area and is qualified at least to the level of write-up. We have exactly what you need to earn the 2:1 or 1st class grade you deserve. Our custom-written essays are to the desired standard and free of plagiarism. Regardless of which subject you have chosen, we can help.  All sources are referenced, cited properly, and in accordance with your preferred referencing style. Our experts are aware of all referencing styles-one less burden for you. We provide a full reference list/bibliography for free with your order.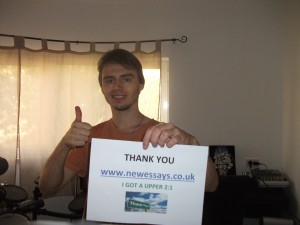 Click here to view our sample essays
Referencing       
Accurate referencing
Peer reviewed sources
In the body of assignment we add a reference immediately after we have drawn on a source
All references included at the end of the assignment/essay
Direct quotes are properly acknowledged and cited
Harvard Referencing Example:-
Oscola Example